Archive Latest Updates
A mixed bag of updates has been made this time.
Added EMR MIDI Track Performer and associated documentation. Grateful thanks are given to StarDot Forum members for finding the title and aiding with hacking the software protection.
A cassette tape version of CEDRIC (Community Energy Display and Retrieval of Information and Calculation) published by British Gas was added. The package has been converted to run from disk. All the software is original except the MENU program which was written to provide an easy way of accessing the titles. Although readable the tapes were in a very poor condition as the package had obviously been stored in a damp environment for many years.
Another British Gas title, LABGAS 1&2, which needs a proprietary interface to work correctly. Unfortunately the interface was not with the package and without this the package will not work.
French Tutor from Salamander Software. This is the first title from this software house in the archive. The package was tape-based and has been copied across to disk for convenience of use.
MFA - a disk of programs to control the Microelectronics for All Interface Module. This is a title released by Hobsons under the MEP umbrella.
Energy from Central Software, designed to look at saving energy in a house.
Power Package, a simulation of an electricity supply.
Happy Numbers from BES.

Business Studies Marks Processing
Amateur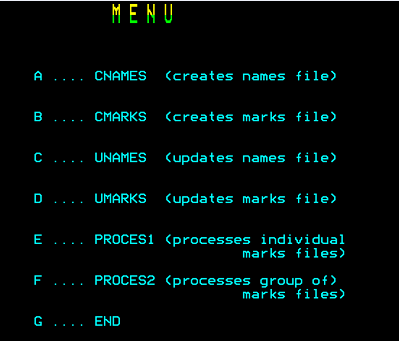 ARCHIVE STATS
1523 programs
663 packages
161 publishers
GENRE STATS
Administration 5
Adventure 64
Art 22
Biology 81
Business 10
Chemistry 106
Classics 1
Computer Science 51
Design and Technology 6
Economics 3
English 37
Gardening 1
General Purpose 41
Geography 44
German 6
History 27
Literacy 169
Mathematics 550
Modern Foreign Languages 17
Music 17
Office Skills 2
Personal and Social Education 4
Physical Education 1
Physics 31
Problem solving 97
Science 8
Special Needs 109
Training 1