Archive News 2022
10/08/2022

The latest software uploaded includes;

Coins from Cambridge Educational Computing,
Community Programme, a collection of two literacy programs from the MEP,
First Steps, a couple of programs for pre-reader children,
Reality Orientation by ROSE Software, a NORDIS title; absolutely no idea what this is!
Money Set, a collection of money programs for very young children; concept keyboard compatible,

Also added are two books, courtesy of manicminer from the StarDot Forum. These are The Book of Listings and The Second Book of Listings.

09/07/2022

It has been a while since the last update.

This time we have added Clock Set 1 -3 from Nordis Software, exercises on telling the time.

Following contact by Lyndhurst girls' STEM Club a Computing History link has been added. This gives information on Charles Babbage and further links to Computing History pages.

19/06/2022

Added recently;

News Line, a teleprinter simulation from B J Software,
Word Spinner from GSN Software,
4 Families in Bangladesh, an Action Aid title,
Add Programs (Set 3), from Nordis,
Add Programs (Set 4), from Nordis,

This brings the total number of different educational programs held to over 3,500. It is getting harder now to find programs that have not yet been archived but they are out there. We still have several hundred discs and disc images to catalogue and check.

04/06/2022

Added recently;

Fuzzbuzz a copule of literacy programs,
General Primary Set 2 - an amateur compilation,
Leeds Into LOGO - LOGO drivers for the Jessop Turtle,
Look and Listen, a SEMERC literacy title for range of input devices,
Cloze from ECL,
Primary Disc 3 a compilation of programs from various sources; added the Archive menu to link all the programs together.

21/05/2022

Added recently;

AidFAX a Teletext based program authoring tool for teachers,
Touch Basics from Brilliant Computing.

The Archive has been to the WROCC 2022 Show at the Cedar Court Hotel in Bradford. It was good to see old friends again and catch up. The public turn out was somewhat disappointing though the Archive did meet several enthusiasts for educational software. The Raspberry Pi project was well received. Thanks to WROCC for hosting the show.

02/05/2022

The latest additions include;

A compilation of programs for young children created for the John Watson School,
Qwerty/Aphabetic Typing Test,
A Sample Disc fro Nordis Industries,
An Amateur title, Speak, an aid to reading,
Switch Games 2 from Compaid,
More disc images for Touch Explorer Plus,
Big Match, sorting games for the Microvitec Touch Screen from Brilliant Computing.

29/04/2022

The latest updates are;

From a donation by Elaine Milner

A Disc Cloner, Solo, added to the Oddments-Utilities section,
SpeedRead 1 and SpeedRead 3 from Daco Software,
Slide Show from BeebugSoft,
Timetabling from Hutchinson.

27/04/2022

The latest updates are;

Added the separate programs for the Dudley Exploration package. Thanks to billcarr2005 from StarDot Forums for hacking the protected tapes.

From a donation by Elaine Milner

A Geography title from Bradford Software Library,
MEP discs of Problems and Investigations,
The original version of Branch from MEP,
Remember and Spell from Golem Software,
An amateur compilation called Pairs,
An amateur compilation called Kanga which includes the new program of the same name,
Two Musical Christmas cards added to the Oddments-Music section,
Software for the book 132 Short Programs for the Mathematics Classroom added to the Books page,
A Slide Show presentation on Mathematics teaching by Anita Straker.

21/04/2022

The latest updates are;

A MAPE Focus Pack on Thinking Skills,
From a donation by Elaine Milner

Contex Spreadsheet, a disc-based spreadsheet from Contex Computing,
Data File Manager from Dialog Software,
Display Data from the MEP,
DIYBase Database Author, from the MEP,
Ginn Mathematics Level 4; check out the Remainder game on the disc,
Ginn Mathematics Level 5,
Ginn Mathematics Level 6,
Ginn Mathematics Level 7,
A compilation of programs from the micro-SMILE First 30 Programs,
Flight, a simulation from BBCsoft,
Disc Flower Search, a database of facts about British wild flowers from MEP,
A customised version of Front Page,
Grid References from the Computer Education Centre Kingston,
A collection of Telsoft Geography Programs,

08/04/2022

There has been a big update to the website over the past weeks.

Items from the Stuart Duke donation have comprised the majority of items added;

Some more RISC-OS educational titles,
Summer 1999 MAPE Newsletter,
Micro-Scope Special Edition magazines,
Exploration and Food, two titles from Dudley LEA; thanks to billcarr2005 from StarDot for the conversion from tape to disc,
Updated documentation for ASK Podd,
Updated MAPE TAPE 5,
Orb of Zalibar, a Grass database adventure,
The Kingdom of Helior, an adventure from Longman,
A MAPE Software Disc,
Branch, a branching database on the MEP Project Work Disc,
Another disc in the Front Page set.
The booklet Mathematics through Databases,


Two titles from the SMDP - Catch and Drover.

The documentation for ASK/Acornsoft Number Gulper was also added. This was from a donation from a retired teacher in Leeds.

21/03/2022

Continuing to add items from the Stuart Duke donation;

added the missing Micro-Scope magazines, issues 12 - 23 ,
Updated the Ginn title, Round the World,
Included some RISC-OS educational titles,
Added documentation for Into Europe '92, from MAPE

12/03/2022

Following a generous donation by Stuart Duke, West Midlands MAPE committee member and sometime author for Micro-Scope the following titles have been added to the archive;

MAPE magazines,
some of the missing Micro-Scope magazines,
Micro-Scope special edition magazines,
MAPE Newsletters,
The Cambridge Micro Software version of FactFile,
an update to the entry for the Ginn version of Expedition to Saqqara,
Treasure Islands, an adventure from Ginn,
an update to the Suburban Fox by Ginn; this adds all the documentation,
Pre-Reading Pack from ESM,
Ramayana Tales, from BBCSoft, a story writing package.

05/03/2022

Added the following titles to the archive;

Information about Micro Mike in the Oddments - Hardware section. These notes are in Interword format,
An Inventories disc in Interword format to the Oddments - Miscellaneous section,
Malcom+, a switch-operated simple word processor,
Castle Pack, from Resource complete with documentation; identical to the MEP title,
More MAPE Newsletters

23/02/2022

Added the following titles to the archive;

Helping with Spelling from Dorset County Psychological Service,
Circuit Designer from Paean Systems,
Infant Farmer from CSH - updated the documentation image,
Magic Story Maker from Mirrorosoft - thanks to billcarr2005 for the archive.

More MAPE magazine issues have been added to the Magazines section.

The following were added to the Oddments-Utilities section.

A raw archive of discs from Netherhall School.

Added the HP-41C printer refurbishment in the Calculators section.

Replaced several orphan links in the main archive.

17/02/2022

Added the following titles from the History of Computing Museum collection to the archive;

Graphic Calculus, a compilation of Graphic Calculus 1 & 2,
Newsagent Accounts from MEP, a simulation,

More MAPE Special Editions and Newsletters have been added to the Magazines section.

The following were added to the Oddments-Utilities section.

A NERIS file extractor,
The utilities disc for the RAMROM 15 board,

A !Genesis presentation, !Somme was added to the RISCOS Education section. This was produced by Netherhall School.

15/02/2022

Added some more MAPE Special Edition scans and some MAPE Newsletter scans.

A review for the TI-59 was added to the Calculators section.

Made the following additions to the Oddments section;

The software for the book Creative Graphics from Acornsoft,
The system disc for Acornsoft C

Added the following titles from the History of Computing Museum collection to the archive;

Early Blue File Programs, a compilation for early years special schools in the midlands area,
Ecology Software Discs from Ecosoft,
Bike Ride from Cambridge Micro Software,
Computer Studies Disc 1, an amateur compilation,
Datastat from Garland Computing,
A version of Fillets and Billets made for Netherhall School added to the download for this program already in the archive.

Another donation from stevei2791 from the StarDot forums provided the following titles, a set of software discs from Cambridge University Press to complement the SMP 16-19 teaching scheme;

Real Functions and Graphs,
Statistics: Living with Uncertainty,
Statistics: Normal Distribution and Probability.

10/02/2022

The Archive was recently contacted by programmer Steve Barrett, who wrote titles for Paean Systems. He donated a number of original discs of material that he produced for Paean. Thanks for that, Steve. Some of the titles were never released. The full collection of discs has been added to the Oddments-Archives section.

Steve's titles added to the Archive include;

Micro Artist, a full-featured, joystick-controlled graphics package,
Character Definer, design your own characters or blocks of characters,
GX Design, a graphical electronic circuit designer,
Pontoon an implementation of the card game (unpublished).

02/02/2022

Latest additions include;

The manuals for Katie's Garden, Touch Funfair and Touch Games 2 from Brilliant Computing,
Advertising material for Acornsoft, Beebug and BT,
Fun School 3 (Over 7s) to the RISCOS Educational section,
Healthdata a medical viewdatabase,
A Viewdatabase page in the Oddments section.

24/01/2022

Latest additions include;

Christmas Caption, a Christmas card maker from SEMERC,
Add Disc Four from NORDIS, a collection of colourful adding games for young children,
MJP - Weather Station,
Curriculum Analysis Software Database shows on which disc curriculum software is,
Click from BECC,
CommunITel Viewdata Level 2 to the CommunITel download,
Compact from Derek Harrison, a special needs program,
Switch Games 1 from Compaid, a collection of switch-controlled arcade style games.

Updates to the Oddments section include;

Musical Snowmen playing a selection of Christmas carols,

20/01/2022

Latest additions include;

Control IT, computer control from the London Borough of Barnet,
CV and Letter of Application Processor from Careersoft,
Padlock, a Microtext presentation about making a padlock,
Stories Suite from Pagesoft,
Typing from Computer Concepts
Adventure Training Skills and Personal Accounting, trial discs of Microtext programs from Whitbread's Youth Training Scheme,
P L Graphics, a CAD system from B S Dolamore Ltd,
The Account Book from Apricot Studios

Updates to the Oddments section include;

The Acorn User Gallery Disc, a collection of graphics screens,
Demonstration CAD programs for the Grafpad,
A set of support discs for a BASIC programming course on the Master

17/01/2022

Latest additions include;

Using Disc Drives with the BBC Micro from Namebug, a tutorial,
More German Games from AVP,
Pen Down Extra, from Logotron,
Pen Down Utilities from Logotron,
Top Class, a presentation package from Format PC,
Wulfstan's Wordhoard from ESM.

Updates to the Oddments section include;

C: A Dabhand Guide the disc of the book in the Programming section,
Disc User magazine discs for January and August 1987,
Fast Access magazine discs Volume 1 issues 1 - 6,
An Acorn User Graphics Utilities disc,
MOS: A Dabhand Guide the disc of the book in the Programming section,
The Micro User magazine discs from 1989 to 1992, various issues.

12/01/2022

Latest additions include;

Layout, a PCB design program from Micro Interfaces,
Choices, a lifestyle questionnaire from Trotman & Co Ltd,
Data Processing: A First Course from Pitmansoft,
Harris Dobby Design System for weaving designs,
Story Writer a MEP program published by ESM.

Updates to the Oddments section include;

The Edword 2 Release Disc in the Applications section,
A disc of Plotter Drivers for PL Graphics files in the Hardware section.

11/01/2022

Latest additions include;

The BIME Phone Tutor, which teaches how to use a telephone,
Cambridge Questionnaire from CSH, design and analyse questionnaires,
The Kite, reading software from Carron,
Using Rebus from Haringey Special Needs Computer Centre,
Fun with Fibre, a nutrition program from Queen Margaret College,
The Animal Pack, a two disc collection of activities about animal classification from Haringey,

Oddments updates include;

The Cumana Touch Pad software has been updated in the hardware section,
A collection of disc copiers was added to the utilities section

09/01/2022

Latest additions include;

Discs from Wakefield District College;

Adult Literacy Group Disc 2,
Adult Basic Education Numeracy Disc,
Adult Basic Education Disc 1,

Rebus 2 from Haringey Special Needs Computer Centre, a symbolic communications program,
Science Topics - Relationships from BBCSoft, a Malaria control simulation,
A demonstration disc from Toxteth Education College Software.

05/01/2022

Latest additions include;

An update to the Plotmate documentation and software and Lintrack PCB design software courtesy of ChrisO from StarDot,
Beans on Toast, a simulation of cooking beans on toast!
Controller from the Walsall LOGO Project, a user port controller in LOGO,
House from NORDIS Software,
How We Used to Live 1936 - 1953, from Yorkshire Television,
Joystick Games 3 from Brilliant Computing,
Maths Page, a mathematical presentation package,
Nursery Rhymes from Carron Software.

In the Oddments section;

Graphics Demos 1 a disc of BBC micro graphics demonstration programs,
A BBC micro fitness tester,
Cumana Touch Pad Disc.

02/01/2022

Latest additions include;

Explore a Fantasy an adventure application for Touch Explorer Plus from NCET,
Tracking, a touch screen program from Widgit,
What's That Picture from Surrey LEA; a different version from the SEMERC title,
A StarDot Compilation Disc of educational, productivity and utility programs,
Theory of Music tests.

Additions to the Oddments section include;

Soundspace from Hybrid Systems,
View: A Dabhand Guide software disc to accompany the book by Bruce Smith,
Viewsheet Decoder, a set of programs to extract data from Viewsheet screens,

01/01/2022

Welcome 2022

Latest additions include;

Gas Billing System, from Addison-Wesley,
Dataprobe, a command driven database from Addison-Wesley,
Amateur Radio Logbook from Technical Software,
A to Z from IEC Software,
Video Maths Pack 1, from Central Independent Television,
The Very Hungry Caterpillar from SEMERC,
Concept Keyboard Software from Brilliant Computing,
Count with BLOB from Widgit Software,
Hangman from MP Software courtesy of Lurkio from StarDot,
Flash Cards from Brilliant Computing,
LEGO Dacta Data Software disc,
LEGO Lines master control program disc,
LGI Switch On from Brilliant Computing,
MicroMike Programs compiled by Manchester SEMERC,
Number Programs from Northamptonshire County Council,
Paintbrush, a graphics program to work with the Robin Light Pen,
Screen Thief from North West SEMERC.

Posted a download for 8-Bit Magazine and several copies of Disk User magazine discs in the Oddments section.

Money Set 1
Nordis Industries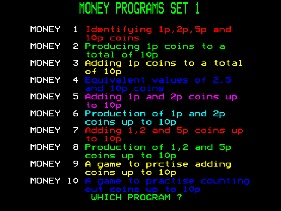 ARCHIVE STATS
3548 programs
1532 packages
344 publishers
GENRE STATS
Administration 44
Adventure 96
Art 41
Biology 149
Business 52
Chemistry 190
Classics 1
Computer Science 201
Design and Technology 52
Economics 18
Electronics 7
English 65
Gardening 2
General Purpose 159
Geography 111
German 7
History 43
Literacy 360
Mathematics 1144
Modern Foreign Languages 42
Music 41
Navigation 1
Office Skills 4
Personal and Social Education 29
Physical Education 5
Physics 128
Problem solving 128
Science 54
Sociology 1
Special Needs 291
Training 4
OLD NEWS
2018
2019
2020
2021